"…there is no social sector more invisible, less understood and less served, than that of rural women, despite the vital role they play in our rural communities…" Former President of Costa Rica, Mrs. Laura Chinchilla
Blue Mountain Coffee is one of the most expensive specialty coffees in the world, and it caters to a hyper-niche market of luxury coffees, costing over US$58/lb. Its prized berries grow on the cool steep slopes of Jamaica's Blue Mountain range above 3000ft where it fuels the livelihood of over 4,000 smallholder farmers. However, this space of luxury coffee production has not escaped the far-reaching effects of climate change.
The Blue Mountain coffee space has been invaded and disrupted by changing climatic conditions. The livelihoods of Jamaican women coffee farmers have been particularly affected by variable rainfall, extended dry seasons, reduced yields, and increased pests and diseases. Drought conditions have led to inconsistent production and poor coffee quality which reduces coffee volumes that can be sold and result in financial losses.
Moreover, the unpredictability and inconsistency of climatic conditions have also increased the cost to maintain coffee farms, as the farm inputs required to increase yield and treat diseases such as the coffee leaf rust are often expensive.
Similar events have been documented globally where rural women experience a greater impact from changing climatic conditions as their dependence on natural resources for livelihood maintenance is often disrupted by hydro-meteorological events such as hurricanes, storms, floods, droughts, and landslides, among others.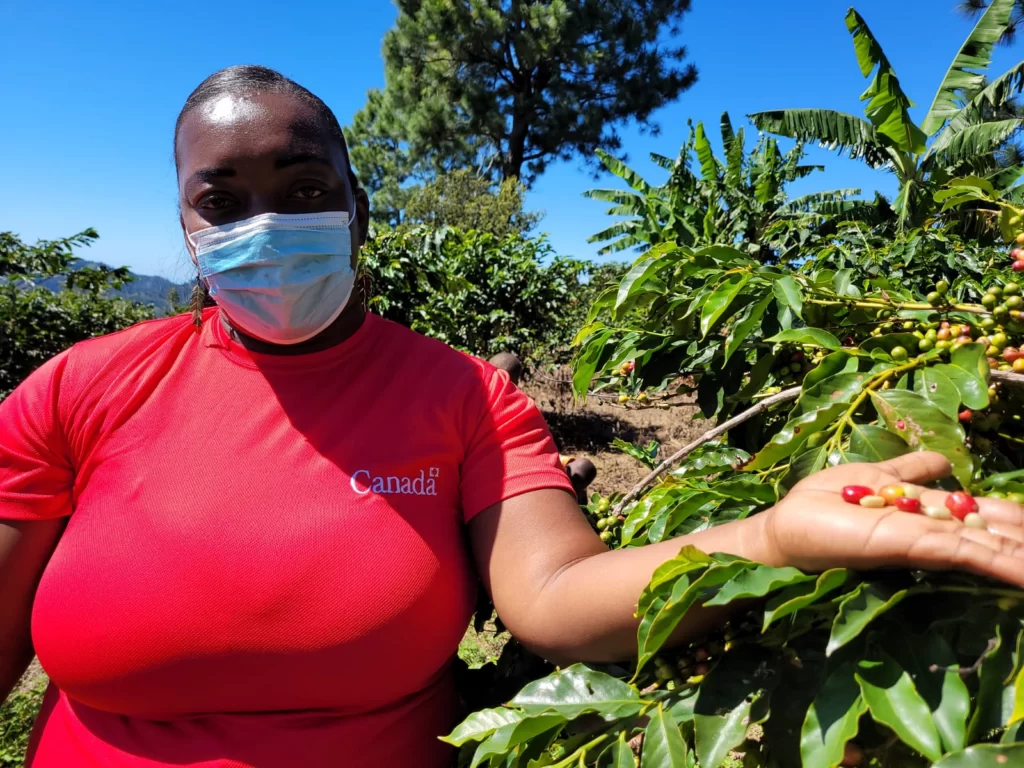 Unfortunately, even though the Latin America and Caribbean (LAC) region contributes less than 10% of global emissions, their economies, sectors, infrastructure, and people have been facing the consequences and adverse effects. According to the State of the Climate in Latin America and the Caribbean 2020 report, the passage of Hurricanes Eta and Iota wreaked havoc in Guatemala, Honduras, Nicaragua, and Costa Rica; Brazil, Bolivia, Paraguay, and Argentina's Pantanal region experienced an unprecedented drought and fire season. The glaciers in the Chilean and Argentine Andes continue to retreat and the Caribbean region continues to face deficits in rainfall.
Moreover, considering that many economies and livelihoods within the LAC region are dependent on climate-sensitive sectors such as agriculture, food, and nutrition security are also in the crosshairs of being adversely affected. It is expected that by 2050, Central America and the Caribbean will experience a one-fifth reduction in agricultural yield for beans and maize.
Other areas that remain highly exposed and vulnerable include, human health, water resources, settlements, and biodiversity. Economically, the combined annual damages for Latin America and the Caribbean due to climate change impacts are estimated to be at US$100 billion by 2050, which is almost as much as Ecuador's GDP.
Particularly for the Caribbean region, approximately US$ 22 billion in losses is projected. Therefore, the devastating impacts on the economic, cultural, environmental, physical, and social fabric of countries will erode any gains and progress they have made in development.
However, amidst these threats, the gendered face of climate change remains a critical area, as the difference in the capabilities of men and women to adapt to changing climatic conditions continues to generate concern. The recent IPCC assessment reported with high confidence on the unequal impact of climate change on men and women. This is primarily due to the gender inequality and inequity that influences the control of and access to assets, resources, services, and decision-making processes.
This disparity disproportionately affects women and increases their vulnerability to climate change impacts and disasters, as well as affects their ability to cope and adapt. ECLAC acknowledged that "women and children are 14 times as likely as men to die during a disaster". Rural women, particularly in the Latin America and Caribbean region are expected to face the brunt of climate change impacts and disasters.
Rural women play a critical role within the food system, where on average they comprise of 43% of the agricultural labour force. Contributing to the food security of households and communities, their roles range from producers, planters, harvesters, farmworkers, rearing livestock, as well as domestic care. However, despite their contribution, the work of rural women is often unrecognized. Their reality is persistently characterised by poverty and structural inequalities, particularly since they have less access to productive resources. Climate change impacts and disasters tend to exacerbate these pervasive challenges, thus increasing their vulnerability.
According to Oxfam, around 30% of rural women in Latin America own agricultural land, while access to technical assistance is only available to less than 5%. For example, in Brazil, and Guatemala rural women are faced with having less access to credit, technology, mechanization, land, and other assets, thus limiting their adaptation and decision-making capabilities. In Colombia, climate change has affected women coffee producers by exacerbating the spread of the coffee berry borer. Their ability to successfully manage this pest and apply adaptation measures has been hampered by their lack of access to technical expertise, information, and decision-making control. Similar experiences are also found within the Small Island Developing States of the Caribbean (SIDS) region where rural women in Haiti and other territories face socio-economic barriers that are rooted in gender inequality; increasing their vulnerability and heightening their risk to climate shocks and disasters.
For Jamaica's women coffee farmers in the Blue Mountains, the impacts of climate change have also been fuelled by the disparity in receiving advisory services. Based on a pilot survey conducted by IWCA Jamaica (JAWiC), a woman coffee farmer for over 10 years perceived that, "people [wider industry stakeholders] more want to help the men or look to the men" with regard to farm management. Women also noted barriers in accessing resources, technical training, and engaging in opportunities which allows upward mobility in the coffee value chain, as well as the ability to occupy spaces of leadership within their communities.
According to another local coffee farmer, there was a "lack of recognition, lack of resources such as training, workshops, mentorship, and lack of support" for women in the coffee industry. Likewise, a woman organic coffee farmer who has operated in the industry for over 20 years as a roaster and exporter observed that "men want to be the ones to tell you what to do…. and think women don't know anything". This gender dynamic and uneven power relation illustrate that some women perceive their contribution to the coffee industry as 'lesser than', compared to men.
However, ignoring women's contribution to rural livelihoods and limiting opportunities to access resources not only lowers a nation's economic potential, but also weakens its resilience to climate change impacts. Therefore, addressing the root causes of gender inequality in the region is vital to securing sustainable rural livelihoods.
For women coffee farmers in Jamaica, there have been efforts to effect change by facilitating rural women coffee farmers with access to opportunities such as training, technical knowledge, financing, technology, and productive resources. Empowering rural women to tackle the impacts of climate change not only requires a gendered lens in reforming institutions and investment in services, but also tackling deep-seated cultural, socio-economic, and patriarchal norms that limit the full expression of women's productive capacity and decision-making power. Last but not least, it will allow mankind to continue enjoying one of the best coffees in the world.